I love Pumpkin.  I love Pumkin pie even better.  When Kathryn Templeton taught me this 6 taste pumpkin pie recipe it immediately became one of my favorites.  Fall is a great time of year to enjoy pumpkin and this recipe is even good for breakfast.  As we study Ayurveda we learn the importance of incorporating all six tastes in every meal to nourish and satisfy. Much of the wisdom of Ayurveda can be sourced on our tongues.  The sense of taste is an oral map to nutrition.  Our tastes unlock the nutrative qualities of the foods we consume.  Each taste will feed our mind, body and spirit.  Taste feeds our senses and when we spice and flavor foods with Ayurvedic wisdom we support optimal digestion and we give our brains the right signal to minimize cravings  and reduce over consumption.  It satisfies us!
Give this recipe a try and let me know: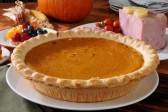 1 pie crust (I use a nice glute free one I found at Whole Foods when making one is not an option)
2 cups pumpkin puree (fresh if you are ambitious and canned organic works great too)
3 eggs
1 cup sour cream
 or substitute whole milk yogurt
1 cup organic sugar (I use coconut sugar )
1/2 cup whole milk (From a happy cow, of course!)
1 tablespoon bourbon (or you may replace with a dash to 1/8 tsp. of any astringen/bitter herb like asafoetida- hing)
1 teaspoon ginger
1 teaspoon cinnamon
1/2 teaspoon nutmeg
1/2 teaspoon clove (or 1/4 teaspoon if freshly ground)
1/2 teaspoon salt
Filling:
Beat together eggs and pumpkin puree until smooth and well-mixed. Stir in sour cream, sugar, milk, bourbon (or asafoetida), ginger, cinnamon, nutmeg, clove and salt until combined.
Assemble and Bake:
Pre-heat oven to 450 degrees. Place pie crust in glass pie dish and cover the edges with foil to prevent burning. Bake on middle rack for 10 minutes. Remove from oven, pour in the pie filling, and bake for another 40 to 50 minutes at 350 degrees. Don't forget to turn down the heat! Be sure to remove the foil from the edges during the final 10 minutes of baking. Pie is done when a thin knife inserted into the center comes out clean.